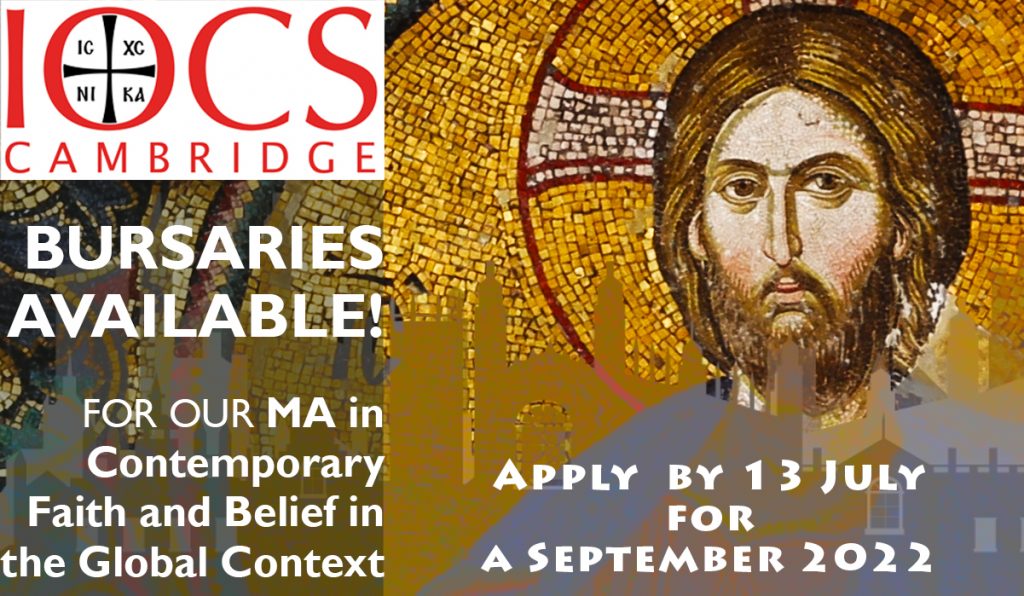 About the bursaries
The Institute for Orthodox Christian Studies, Cambridge is delighted to offer three Master of Arts Bursaries, each covering half of the tuition fee for a place on the MA in Contemporary Faith and Belief in the Global Context. Each bursary amounts to £3,520, covering 50% of the £7,035 total course fee for the Distance Learning mode of delivery. Candidates will first have to apply to be admitted in the above-mentioned course, using the online Anglia Ruskin University (ARU) application process. The ARU application for the MA in Contemporary Faith and Belief in the Global Context is accessible here. Only after having applied for the course with ARU, applicants can then send an application form for the MA Bursary available here, which they should submit to the IOCS office, together with an up-to-date CV.
Deadlines and selection
Applications for the IOCS MA Bursaries should be submitted by the deadline of 13 July 2022 to: The Institute for Orthodox Christian Studies, 31 Jesus Lane, Wesley House, Cambridge, CB5 8BJ, United Kingdom. A scanned copy of the application pack should also be sent by email (at info@iocs.cam.ac.uk). Should the candidate's application for the course be successful, they will be entered in the selection process for determining the successful MA bursary recipients. Part of the selection process will also include an interview by Zoom with the candidates. Candidates will be notified about the outcome by 20 July 2022.
References
It is the applicant's responsibility to ensure that the two academic referees nominated in the bursary application form submit their references to the Institute for Orthodox Christian Studies by 13 August 2021. These references are separate from the two references required by the ARU online application system, though they can come from the same referees. IOCS reserves the right to seek further information as regards any candidate.
We are able to offer these bursaries through the kind generosity of two of our supporters, Mrs Kathleen Eden and Mr Isa Audeh.