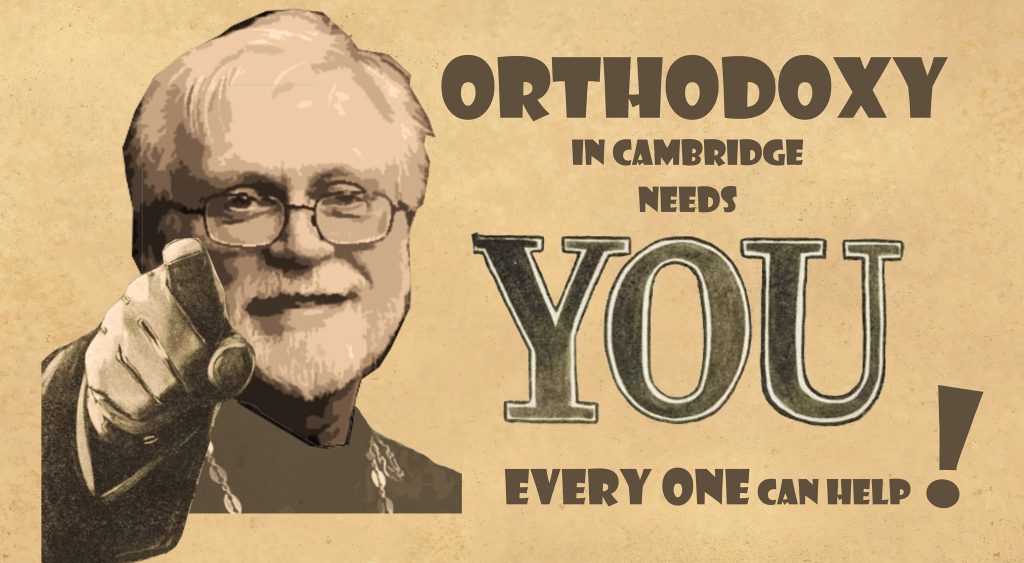 create awareness about the work of the Institute, i.e. the opportunities for education and exchange at IOCS
raise funds to support, enhance or facilitate access to education through the Institute (bursaries, scholarships, research positions, library provisions, events etc.)
foster good relations and active collaboration between IOCS and different local Christian communities – Orthodox or otherwise
inspire dialogue and encounter between the theology and tradition of the Orthodox Church and the contemporary world through the medium of IOCS
Each and every one of you can become a Friend! To sign up, please join one of the categories below:*
Tier 1: IOCS AMBASSADORS – Spread the word!
Expected monthly financial contribution: Not necessary.
To become an Ambassador, please send us an email at info@iocs.cam.ac.uk. Included in this email, please send us your consent as indicated in this form, so that we can keep in touch with you by email.
What your contribution can be: Friends and supporters who cannot contribute financially to our Institute's work can still help us immensely! You could ask us for printed brochures or posters of our courses and/or events and distribute these in your churches or groups of friends. The Orthodox Institute needs to become more well-known, and we need your support!
Tier 2: PUBLICITY – Help us reach farther afield!
Expected monthly contribution: £15. Please click here to join this Tier!*
What your contribution helps us achieve: Given today's torrent and variety of information, it is increasingly difficult and costly to make our Institute's work more widely known in the context of an oversaturated media. Your contribution helps us reach out a little more widely every month, by continuing to advertise information about our courses and events.
Tier 3: LIBRARY FUND – Help us increase our collection!
Expected monthly contribution: £50 Please click here to join this Tier!*
What your contribution helps us achieve: Keeping up with the latest necessary publications in the field of theology has become a rather costly affair and universities can only manage that by dedicating special funds for book acquisitions. By joining this category, you are helping the Institute every month to acquire at least one of the latest books and/or journals, essential to our students and researchers!
Tier 4: SCHOLARSHIPS: CERTIFICATE – Orthodoxy by Distance Learning
Expected monthly contribution: £100 Please click here to join this Tier!*
What your contribution helps us achieve: Many Christians around the world are enthusiastic to learn about the Orthodox tradition and a great number of Orthodox people feel they need to become re-acquainted with the teaching of the Church. Our Certificate course by Distance Learning has been designed precisely to cater for such people. However, not many of these people can afford to pay the fee. You can help them!
Tier 5: SABBATICALS – A hub for researchers
Expected monthly contribution: £500 Please click here to join this Tier!*
What your contribution helps us achieve: We aim to be able to receive researchers or doctoral students from other countries for short sabbatical periods (3-4 months) in Cambridge – so that they too can benefit from the wide access to libraries and events which our Institute can facilitate. Throughout the years this has been one of the most asked-about study opportunities and it is clear Orthodox researchers benefit immensely from such exposures.
*Alternatively, you can download and fill in a Standing Order form here. Please send this back to IOCS, 31 Jesus Lane, Wesley House, Cambridge CB5 8BJ UK
* Our American friends can also make their contributions via CAMBRIDGE IN AMERICA, a tax-exempt organisation (recognised by the U.S. Internal Revenue Service). More details here.

Tier 6: SCHOLARSHIPS: RESEARCH – Help Orthodox scholars study in Cambridge!
Contributions of/over: £10,000 Please contact us if you wish to become a Patron in this Tier!
What your contribution helps us achieve: Cambridge is an appealing place for research and our Institute opens up access to a wealth of resources and expertise for Orthodox scholars from all over the world. Sadly not all scholars – particularly from Eastern Europe and the Middle East – can afford the fees for our postgraduate programmes: MA and PhD. Your contribution will not only help fund an Orthodox researcher's studies but it will also help the Cambridge theologians encounter more Orthodox scholars!
Tier 7: LECTURESHIP / FELLOWSHIP – Orthodoxy in Cambridge in perpetuity!
Contributions of/over: £50,000 Please contact us if you wish to become a Patron in this Tier!
What your contribution helps us achieve: Your benefaction could help fund a lectureship or fellowship – which could be named or targeted to specific research or geographical areas. Teaching and conducting research projects are the most important things that we do in the prestigious context of Cambridge. However – just as is the case with most other academic establishments – our activities rely essentially on endowments and lectureships for academic posts. This is one of the most significant manners of support we can receive – so this is a wonderful chance for becoming patrons of Orthodox education in Cambridge!
For more information never hesitate to give us a ring or send us a line.
Mission and Vision
The mission of The Friends of IOCS is to bring together the community of IOCS supporters worldwide. It is open to current students and alumni, to all who love the Institute and are interested in building and supporting a vibrant Orthodox Christian educational ministry in Cambridge, to anyone who wants to give something back or contribute to its future.
The vision is to work in partnership with the Staff and Trustees to raise the profile of IOCS as a place with something unique to offer in Christian Orthodox education, research and outreach in the English-speaking world. This vision is rooted in the established presence of IOCS in Cambridge, in the inspiring legacy of our founding fathers – at the same time pan-Orthodox and ecumenically aware -, and in the profound sense of committed service and mission at the heart of our continuing plans.
In a testament to the world-wide reach of the Institute, but also to the diversity of our present and past students and supporters, the Friends of IOCS will initially have both a UK and a USA arm. The founding chairs of these branches are: Dr Elizabeth Theokritoff in the UK and Fr David Lowell in the USA. Please watch them introduce the 'Friends of IOCS' project in the video below (recorded during the celebratory event in support of IOCS – 'Standing at the Crossroads: Challenges and Opportunities for Orthodoxy in the West. Building on two decades in Cambridge' (17 June, Magdalene College, Cambridge).
Events
In furtherance of these aims, Friends will organise or facilitate – in consultation with IOCS – events appropriate to the communities or individuals taking part. We invite you to talk to the Chairmen of the UK or US branch of the Friends and bring your ideas of how you might be able to help with such activities.
What are the benefits of being a Friend of IOCS?
Besides, remembering our Friends' names in the Divine Liturgies and services of the Institute, IOCS will offer Friends access to a special programme of events and benefits throughout the year, giving you the chance to share in our life in Cambridge in the lecture room and beyond. Benefits include but are not limited to:
– Free access or concessionary rates to conferences and events
– Friends Newsletter
– Recognition for your support
– Annual Open Day Event for Friends
All the Institute's existing supporters and donors are already considered as part of the Friends community and stand to benefit further for their continued backing.
If you do not want to enrol as a Friend but would like to keep abreast with developments and activities, you can sign up for the Friends Newsletter.