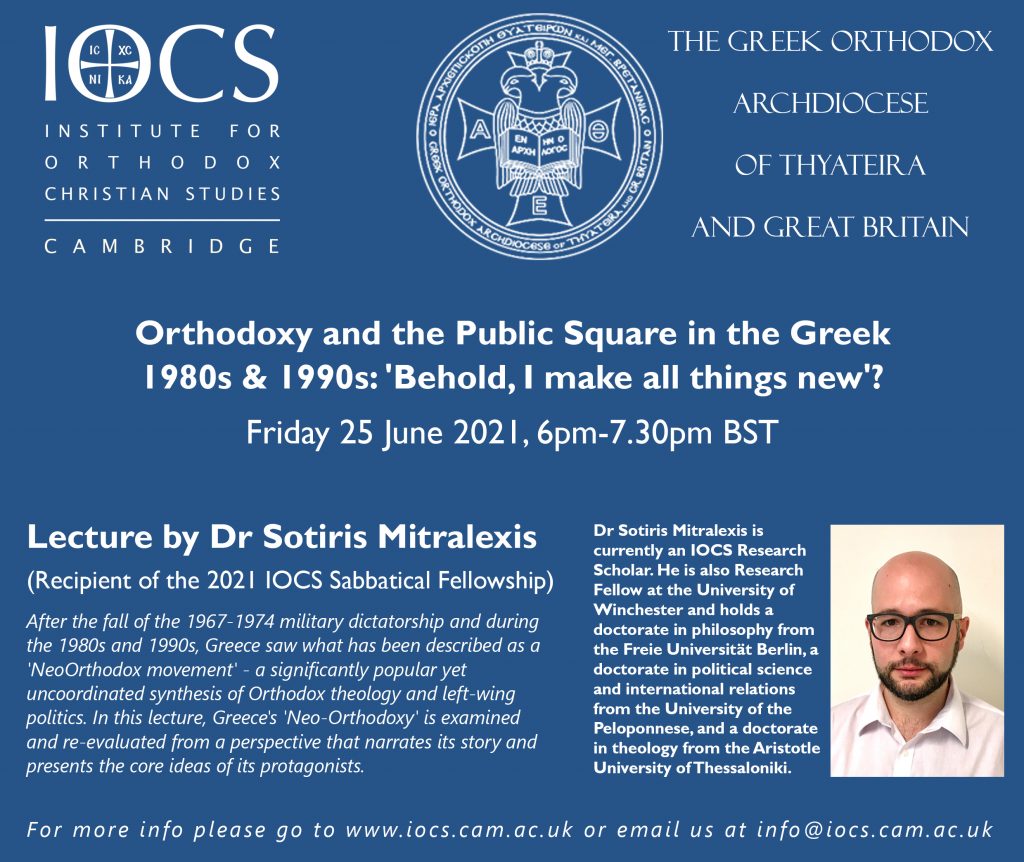 Friday 25 June 2021, 6pm-7.30pm BST: The Institute for Orthodox Christian Studies together with the Archdiocese of Thyateira and Great Britain present a lecture delivered by Dr Sotiris Mitralexis, Sabbatical Research Scholar, IOCS Cambridge & Research Fellow, University of Winchester.
After the fall of the 1967-1974 military dictatorship and during the 1980s and 1990s, Greece saw what has been (problematically?) described as a 'Neo-Orthodox movement', i.e. a significantly popular yet uncoordinated synthesis of Orthodox theology, traditionalism with a twist, and left-wing politics. Is it, however, indeed the case that Neo-Orthodoxy is a terminologically viable category? In this lecture, Neo-Orthodoxy is examined and re-evaluated from a perspective that narrates its story and presents the ideas of its protagonists. Analysing its premises as well as the social and historical context of the term while providing a sketch of important figures of the 'movement', the commonly held assertion that the phenomenon under scrutiny can indeed be labelled a 'movement' is challenged. The lecture identifies problems that such a label would entail and presents the core identifying characteristics of Neo-Orthodoxy, both in relation to and in contrast with the dialogue between Orthodox Christianity and Greece's left wing. Furthermore, an assessment of Neo-Orthodoxy's theological 'freshness' and relation to wider theological currents is also attempted.
Dr Sotiris Mitralexis is Research Fellow at the University of Winchester and holds a doctorate in philosophy from the Freie Universität Berlin, a doctorate in political science and international relations from the University of the Peloponnese, a doctorate in theology from the Aristotle University of Thessaloniki, and a degree in classics from the University of Athens. He has been Seeger Fellow at Princeton University, Visiting Fellow at the University of Cambridge, Visiting Senior Research Associate at Peterhouse, Cambridge, Visiting Fellow at the University of Erfurt, Teaching Fellow at the University of Athens and Bogazici University, as well as Assistant Professor of Philosophy at Istanbul Sehir University. His publications include the monograph Ever-Moving Repose (Cascade, 2017 and James Clarke & Co, 2018) and, inter alia, the edited volumes Maximus the Confessor as a European Philosopher (Cascade, 2017), Polis, Ontology, Ecclesial Event (James Clarke & Co, 2018), Between Being and Time (Fortress, 2019, edited together with Andrew Kaethler) and Slavoj Žižek and Christianity (Routledge, 2019). As an IOCS Sabbatical Research Scholar, Sotiris is currently working on two projects: writing the last chapters of his monograph on 20th-century Orthodox political theology and political philosophy of religion in Greece, tentatively entitled Subversive Orthodoxies, and editing the collective volume Mapping the Una Sancta: Eastern and Western Ecclesiologies in the 21st Century, to be published by Winchester University Press.