The Core Staff are part of the IOCS Academic Faculty, alongside our Visiting Professors and Lecturers. They are also handling the day-to-day administration of the Institute. Most of the staff listed below are accepting applications for PhD students. Please contact the Institute if you are interested in doctoral research.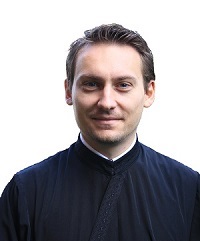 Father Dragos Herescu – Principal
Father Dragos Herescu is the Principal of IOCS. He is also teaching at undergraduate and postgraduate level on the degree programmes offered through the Institute and the Cambridge Theological Federation. He is also an Affiliated Lecturer of the Divinity Faculty, University of Cambridge.
An alumnus of the Institute's MA in Pastoral Theology, Father Dragos later graduated an MPhil in Theology with the Divinity Faculty, University of Cambridge.
He is in the last stage of completing a doctoral thesis with Durham University, on the secularisation paradigm in the context of Eastern Orthodoxy, with particular focus on the Romanian context.
Fr Dragos serves as parish priest for 'St John the Evangelist' Romanian Orthodox parish in Cambridge.
---

Dr Christoph Schneider – Academic Director
Dr Christoph Schneider, MA (King's College London), Staatsexamen (University of Zürich), Ph.D. (University of Zürich), is Academic Director and joined the Institute in 2010. Telephone 01223 741 440. His research interests include:
Systematic and Philosophical Theology: Philosophy and Theology, Theology and Philosophy of Language/Semiotics, Metaphysics of the Between, Continental Philosophy
Russian Religious Thought, esp. Pavel A. Florensky
Orthodox Theology
Dialogue between Orthodox, Anglo-Catholic and Protestant Theology
Recent Publications:
'Will the Truth not demand a Sacrifice from us?' Reflections on Pavel A. Florensky's Idea of Truth as Antinomy in the Pillar and Ground of the Truth (1914), Sobornost 34/2 (2013), pp. 34-51.
Review of Rico Vitz (ed.), Turning East: Contemporary Philosophers and the Ancient Christian Faith (St. Vladimir's Seminary Press, 2012), Notre Dame Philosophical Reviews, 5/10/2013.
'Au-delà des limites de la raison: réflexions sur l'ouvrage de Paul Florensky La Colonne et la Fondement de la Vérité (1914)'. Contacts. Revue orthodoxe de théologie et de spiritualité LXV (2013), pp. 89-100.
'Introduction: Beyond Agnosticism and Pantheism', in: Constantinos Athanasopoulos & Christoph Schneider (eds), Divine Essence and Divine Energies. Ecumenical Reflections on the Presence of God in Eastern Orthodoxy (Cambridge: James Clark & Co, 2013), pp. 9-26.
---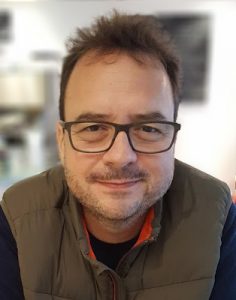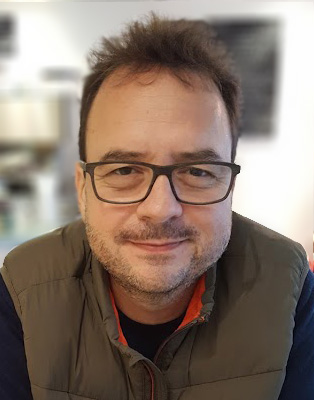 Dr Razvan Porumb – Koga Postdoctoral Fellow / Vice-Principal
Dr Razvan Porumb is a Postdoctoral Fellow and Lecturer at IOCS.
He has recently taken his doctorate through the Institute for Orthodox Christian Studies and the Cambridge Theological Federation on the topic of 'Orthodoxy and Ecumenism. Towards Active Metanoia'. Razvan had previously completed an MA in Pastoral Theology (also through IOCS/CTF), writing his thesis on 'Deification and Spiritual Life in Orthodox Pastoral Theology.'
He previously worked for the Metropolitanate of Moldavia (Iasi, Romania) as Editor-in-Chief at Trinitas Press, where he supervised and was involved in the publication and translation of numerous books and journals – an activity he enjoyed for almost nine years. Razvan has always had a special interest in ecumenism, being involved in various ecumenical milieux and projects. He spent a one-year internship with the World Council of Churches in Geneva.
---

Revd Dr Alexander Tefft – Chaplain
Revd Dr Alexander Tefft is Chaplain at IOCS and a Tutor for the Distance Learning Courses.
A graduate of St. Tikhon's Orthodox Theological Seminary in the USA, he is Parish Priest of the Orthodox Parish of Saint Botolph, meeting at St. Botolph-Without-Bishopsgate, London, near Liverpool Street. He is Assistant to the Dean of the Antiochian Orthodox Deanery of the United Kingdom and Ireland and theological advisor to its ordination committee.
A Canadian resident in London, Fr. Alexander has served in parishes of both Slavic and Byzantine tradition. He has been a Commonwealth Scholar at Oxford University and has taught Orthodox dogmatics and history in Canada, the USA, and the UK since 1991.
His main research interests focus on ecclesiology, specifically the dogmatic foundations of the Orthodox Church and the heresy of phyletism, the concept of a national church. Since 2004, he has been a tutor at the Institute and taught the MA in-house course on Orthodox apologetics.
---

Father Raphael Armour – Associate Chaplain
Fr Raphael Armour is Associate Chaplain at IOCS and also a member of THE WAY Organising Committee. Following a career in the marine industry in London and New York, he and his family returned to the UK in 1996 and moved to Cambridge four years later. He was ordained to serve as deacon for the Russian Orthodox parish in Cambridge in October 2000 and to the priesthood in July 2001. Fr Raphael is also a member of the ecumenical Chaplaincy Team at Oakington Immigration Reception Centre, near Cambridge.
---
SUPPORT STAFF:

Dr Mat Ridley – IT Officer
Previously a biochemist, Mat Ridley joined the Federation in 2001 as its IT Officer, and is responsible for the day-to-day running of many of the Federation's computer systems. He also works for Wesley House, Westminster College and the Institute for Orthodox Christian Studies. Variety being the spice of life, he spends a lot of his spare time in front of computers too – but he also enjoys watching films, cooking and walking. He has also written a novel.
---

Victoria Tokareva – Library Assistant